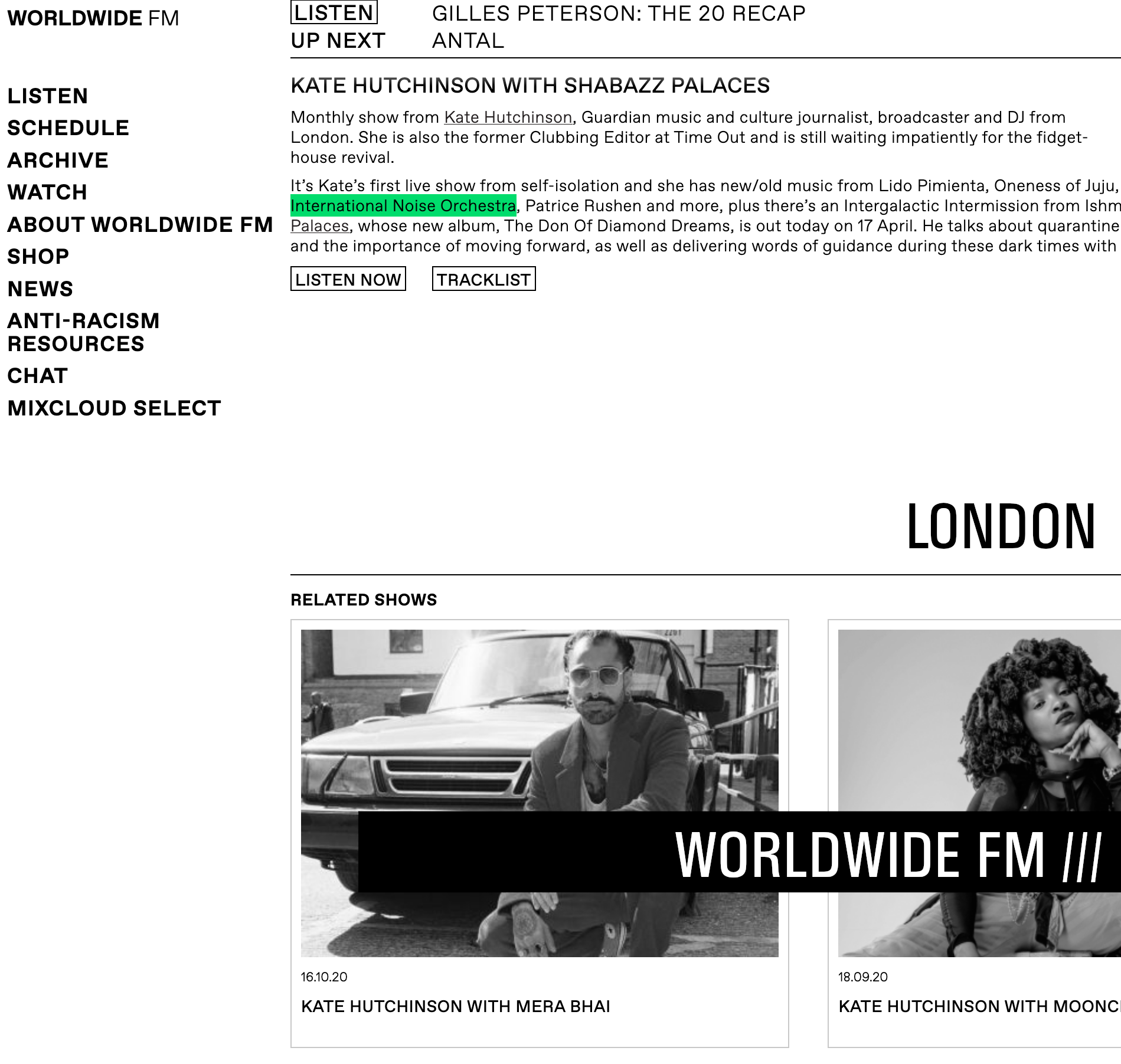 A big THX to Kate Hutchinson for playing International Noise Orchestra on
→ WORLDWIDE FM .
Kate Hutchinson with Shabazz Palaces /// RADIOSHOW
Monthly show from → Kate Hutchinson, Guardian music and culture journalist, broadcaster and DJ from London. She is also the former Clubbing Editor at Time Out and is still waiting impatiently for the fidget-house revival.
It's Kate's first live show from self-isolation and she has new/old music from Lido Pimienta, Oneness of Juju, Bakongo, Adrian Younge, International Noise Orchestra, Patrice Rushen and more, plus there's an Intergalactic Intermission from Ishmael Butler of
→
Shabazz Palaces
, whose new album, The Don Of Diamond Dreams, is out 
today
 on 
17 April
. He talks about quarantine self-care, his son Lil Tracy and the importance of moving forward, as well as delivering words of guidance during these dark times with a very special reading…
Riz Ahmed – Deal With It
Lido Pimienta – Te Quería
Augustus Pablo – Drums To The King
Oneness Of Juju – The Connection
Dwight Druik – Georgy Porgy (Disco Version)
Aldorande – Summer Body
JUNA – La Sera
Harmonious Thelonious – George Villa ft. Leo Palayeng
Esnard Boisdur – Miziki Bel
Cornelis Vreeswijk – I Rio de Janeiro
The Stylistics – People Make The World Go Round
The Lulus Band – Nwendeire Guitar
→ International Noise Orchestra – Gimme Your Lovin
Patrice Rushen – Never Gonna Give You Up (Won't Let You Be)
Bayetë & Probably Sean – Corona Theresa
Shabazz Palaces – Chocolate Souffle
.
// SHABAZZ PALACES INTERVIEW //
Shabazz Palaces – Fast Learneer
Shabazz Palaces – Bad Bit Walking
.
Adrian Younge & Ali Shaheed Muhammad – Hey Lover ft Roy Ayers